---
Within the first 12 months, we had signed up resellers all over Europe as planned. Each reseller had invested in a starter kit including technical training and sales training and was selling to real customers. What could possibly go wrong?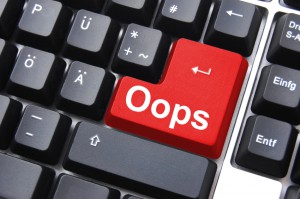 When I received that phone call, it came as no big surprise to me. I received similar phone calls several times a month. I was on the list of the headhunters locally as well as internationally.
I was becoming a local celebrity. My picture was in the news on a weekly basis and I was regularly called to make comments. It was the first time in my life where I could consider myself extremely successful. As happens to most people who become successful, they tend to assign the success to themselves. I did that too and thought that I could walk on water.
And then the phone rang.
On the line was Bent Henrik Madsen. "Would you be interested in a new project?"
Not really. I was doing very well where I was. But – there is always a BUT.
We are in early 1988. I was Executive Vice President at Dataco, responsible for global sales and marketing. Dataco was a start-up when I joined and it was now taking off like a rocket. I was traveling the world setting up resellers and making OEM deals left, right and center. I was a shareholder in Dataco. Not a major one, but still. My terms with Dataco were proving to be really interesting. As the business developed, the executive team was rewarded handsomely for the results. I had a super team of people. I had hired each and every one myself and we were running like clockwork, producing impressive results.
And then we got external funding.
You can read all about it in this post >> The Dataco Case Story. From being something extraordinary, my job at Dataco became just "a job." I was 37 years old and extremely successful. I didn't want a "job". I wanted a mission. I wanted to change the world (that concept was invented much later). I wanted to be on the team building a successful company operating globally, with the HQ in Denmark and with me as the CSO on the executive team!
Bent Henrik knew where to put the pressure and I started tilting.
In April 1988 I left successful Dataco to join Mercante – another promising start-up.
Mercante
Mercante was a start-up based on the idea of making a high-performance printer for the office environment. The founders came from the photocopier business and had recently completed a semi successful project with Philips. By combining several technologies, Mercante had designed a LED printer that could print 20 pages per minutes, could hold 4 times 500 sheets (up to A3), had a 10 or 20 bin sorter and could print three print jobs "simultaneously."
The CTO explained that the breakthrough was making a LED printer perform 20 ppm at 300 dpi.
Having no intimate experience with printers I was not impressed by getting toner on paper at 20 ppm. Any photocopier could do that and 300 dpi was already the industry standard.
What was new was the 4 times 500 sheets paper capacity, the 10/20 bin sorter and the "parallel" printing capability. No one else could do that and I saw real opportunity for value to the customers.
At an executive meeting just after I started we were reviewing the development plans. The product was still a prototype and there were several issues that needed fixing before we could release the product for sale.
I wanted three versions of the printer. A 15 ppm, a 20 ppm and a 25 ppm version.
HP had a 20 ppm machine with a Canon engine so I wanted something just below and above what HP could offer. HP wasn't pushing this product very hard, but if we were successful I feared that they would flex a muscle or two and make our life miserable. With three basic versions I could create a portfolio of options coming in low with a 15 ppm/500 sheet version less expensive than the HP machine and then up sell to 25 ppm/2000 sheets with 10/20 bin sorters where HP couldn't catch up.
The CTO agreed. That would prove to be a disastrous decision. The CTO should have vetoed my request. Changing a printer from doing 20 ppm to do 25 ppm was not a trivial task. I should have known better, but I didn't.
We moved on.
Preparation
With several months to commercial release we started preparing our Go-to-Market strategy and building the organization.
We decided for an indirect sales strategy. There was an established network of printer distributors and resellers all over Europe. After talking to several of the resellers it seemed that they all loved the idea of this type of printer. There was very little competition in this segment and the price tag – and thus the margins – were attractive. With this type of printer the resellers could sell maintenance contracts and the consumables side of the business was a gold mine.
The printer did things not seen before so we would have to educate the market to appreciate the features and justify the high price tag.
With my previous success from Dataco under my belt I saw no reason not to schedule a fast roll out all over Europe. The plan called for a pan European roll out within one year after first launch. To support this effort I started hiring area managers.
Before we had shipped the first unit I had built an organization with 3 area managers, a marketing team of 4 people including a technical writer and 3 secretaries. We divided Europe into 4 regions of which I personally took the German speaking countries and the rest of the world outside Europe.
Launch
If you have ever been with a start-up then you will know that deciding the commercial launch date (where you take orders and deliver) is no trivial task. I don't think any one of us on the executive team didn't know that this decision was critical.
Was the product ready? When is a product truly ready?
There were issues with the product, but we didn't consider them critical. We could fix these issues within the next 3-6 months. There would be some noise in the beginning, but we would catch up with field engineering changes. The printer was a modular design and we could replace each module as we improved the reliability.
The pressure was enormous. We had taken outside investment. We had built the organization. We had lined up resellers and lighthouse customers. Postponing the launch would have been expensive.
Sales material, partner programs, price lists, press releases, posters and what have you were in place at the commercial launch. We knew how to work the press and got lots of editorial coverage.
We had lighthouse customers in place writing nice testimonials and the first resellers in Denmark and the Nordics were signed and sealed.
Success
The printer was a huge success.
New partners signed reseller agreements and paid for starter kits including demo units and training.
We trained the resellers and they started selling the printers to their customers.
Within the first 12 months we had signed up resellers all over Europe as planned. Each reseller had invested in a starter kit including technical training and sales training and was selling to real customers.
We were airborne.
Japan
You cannot be in the printer business without sourcing most of the stuff in Japan. So did we. Most of the photo chemical components were provided by Japanese suppliers. We had excellent relationships in Japan (you normally have excellent relationships with people who sell you stuff!!).
I don't know who got the idea, but it certainly wasn't me. We should use our connections in Japan to make OEM deals there.
I should have vetoed that. I only resisted, then gave in. Big mistake.
We went to Japan and we wasted lots of money and precious time, but I did learn something.
Unless you are Apple, Armani or Porsche, Japanese prefer to buy Japanese manufactured products. To penetrate the Japanese printer market you must do joint ventures. Joint ventures require investment and time. If you want to make it big in Japan you must have someone on the ground, patience and lots of money. It may pay off handsomely some day, but it is not a quick win for a start-up.
We gave up Japan and returned our focus to Europe.
The Taste of Success
The printers were selling well. Orders came in from all over Europe.
I remember Alitalia ordering 10 units for their maintenance facility in Rome. It was for an application that I have had never thought of, but one we could replicate with all airlines all over the world.
XEROX from El Segundo in California called. They would like to order two units for an OEM test.
XEROX is a wonderful company. They have a policy of not squeezing small companies. They were interested in evaluating our printer for an OEM deal and asked us for a proposal including hardware, consumables, training and support. I did the proposal and flew off to the US to walk them through the details. The meeting took place over a very nice lunch and two weeks later I received an order with a PO number. We billed and they paid. We shipped and trained them and they started testing.
We participated in the CeBIT circus in Hanover, Germany and came back with bags of business cards from potential customers and resellers. Distributors were knocking on our doors, but we turned them down. We were not ready for a two tier model just now.
We had regular meetings with our resellers and did sales forecasts, which were passed to the manufacturing department who passed them to our suppliers. I was at the front end of the value chain and I enjoyed the outlook.